Fishing for Pollock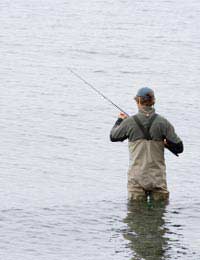 Over the last few years there has been an upturn in the fishing for and the use of Pollock in cooking. Pollock is part of the cod family and during the spring a female Pollock can lay millions of eggs making Pollock a tasty and plentiful substitute to cod.
Where can I Fish for Pollock?
You can fish either out at sea for Pollock or on the rocks and piers that litter the coastline of the United Kingdom. As Pollock is a predatory fish (ambushing its prey from behind or underneath rocks) the smaller of the breed will come further inland than their larger counterparts making them easy to catch inland or out in deeper water.
How Best to Catch Pollock?
This is a matter of taste depending on the kind of rod you like to use. Most sea fishing rods will be adequate enough when it comes to fishing for these cod-like fish and the addition of a Tempest sand eel to your hook will provide Pollock with tasty bait. Again as to where to fish for them this is entirely a matter of choice but if you are looking to catch larger fish then going out to see in a boat is the better option.
Float Fishing
Float fishing for the uninitiated is exactly that – using a rod with a float attached to the line offers the fisherman an earlier opportunity to know he has a fish biting on the bait. As Pollock are predatory and ambush their prey any life bait you use will be fair game for them and if dangled close enough to them the Pollock cannot resist ambushing your hook's cargo.
Carp rods with ten pound main line are more than sufficient if you wish to use floats on your rods.
Fishing for Pollock as Food
As we have already mentioned Pollock comes from the cod family and as such tastes very similar to cod. Given that cod stocks are being depleted by sea fishermen for commercial sale the emphasis has now switched to a suitable alternative; and Pollock is just such an alternative.
Pollock can be cooked in the same way as cod and indeed can be caught and used as a substitute for cod in the classic British fish and chip supper. Alternatively simply boning the fish and grilling it with some lemon juice can make a delicious meal.
Pollock can also be used in classic dishes such as fish pies and can also be baked, deep fried, grilled or used in Indian dishes using curries. You will find a wealth of recipes for Pollock on a variety of sites on the Internet and also in many of today's recipe books.
Catch and Release
Depending on where you go to fish for Pollock you may be asked to pay for what you catch (if you wish to take it with you) or simply put it back after it has been weighed. As Pollock is a highly sustainable fish however you are more than likely to be allowed to keep what you catch especially if you sea fish as part of a charter party. Again prices for such charters are difficult to predict here but you will find a wealth of fishing charters for hire on the Internet or in local wildlife magazines.
You might also like...