Fishing Holidays: Your Questions Answered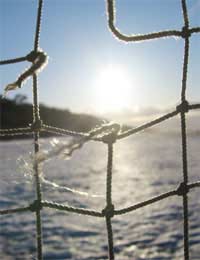 The prospect of a fortnight's undiluted fishing has an obvious appeal to any angler – and with fishing holidays such big business, there's no shortage of venues or tour operators ready to help you achieve your dream.
With so much on offer, it can sometimes feel a bit like being a kiddie let loose in a sweet shop – so how can you be sure you really get the holiday of a lifetime?
So What's Available?
It would be easier to ask "what isn't?" Whether you're looking for a spot of coarse fishing within an hour of home, or to catch salmon on the Spey, shark off Pembroke, marlin in the Indian Ocean or arapaima in Brazil, there's a holiday for you.
Today's fishing holidays are serious tourist money-earners and offer every possible opportunity from wilderness back-packing expeditions, through self-catering riverside cottages to luxury 5-star accommodation – with excellent fishing guaranteed. There's something to suit every taste and every budget.
But I'm a Real Novice – is There Anything For Me?
Whatever your level of skill, there's a holiday for you – the trick is to be honest about your experience from the start. Lots of venues offer "teaching" holidays – in reality a lot less formal than it sounds – so if you want to develop your skills, or learn a whole new fishing technique, there are plenty of opportunities available.
UK or Abroad?
There are no universal answers to this one and it obviously depends on what your ideal holiday comprises; for some anglers, the quest for a particular species dictates the venue, while for others, different issues need to be taken into account.
Although they say travel broadens the mind and there's no escaping the fact that there are some truly amazing fish to catch around the world, there's plenty of challenging sport to be had within the confines of our own little island's waters. The holiday-at-home angler certainly doesn't need to feel hard done to – or short of choice.
Do I Need Insurance?
Holiday insurance is a must, whatever the type of get-away you're planning, but don't automatically buy the one your travel agent wants to sell you. Some credit card companies have schemes which cover you if you've bought the holiday through them – either free or at a subsidised cost – while many household insurers also have good travel insurance packages, so it pays to shop around.
Saving money is one thing, however, but don't skimp on cover, especially if you're setting off up the Amazon. Make sure you take out adequate personal, medical and third party liability insurance – and if in doubt, get some professional advice.
How Do I Pick My Holiday Company?
Picking a fishing holiday company is just like choosing any other tour operator – and every bit as important; after all, you are about to entrust them with your lives, your hopes and your hard earned cash!
Do the usual checks to make sure they're fully insured, reputable and bonded with ABTA, the CAA/ATOL or other appropriate body, depending on where the company is based. Your travel agent should be able to help you reassure yourself, though if you're doing the research and the booking yourself, you may have to be prepared to do a good bit of digging.
However, where picking a fishing holiday does become different is when it comes to the fishing itself – and the key question has to be, does the company seem to know what it's talking about? If you're going to be investing your money – and your annual holiday entitlement – you do need to be sure that they seem competent and knowledgeable enough to deliver what they're promising. Fortunately this is usually fairly clear from their brochure and any preliminary dealings you have with them, but don't be afraid to make a bit of a nuisance of yourself if you have to.
A reputable company will understand and won't mind answering your questions; if you don't get much joy before you've shelled out your cash, you're not likely to afterwards – so walk away if you smell a rat. There are plenty of good, honest companies around; you don't need to deal with those that aren't.
What About My Partner/Kids?
Fortunately many operators understand that while standing chest-deep in ice-cold water all day is your idea of a heaven, your loved-ones may see it as the ultimate holiday from hell! As a result, a large number of them offer alternative programmes for "non-fishing" visitors, often including boat trips, of course.
With the best fishing typically being found in the most tranquil of places, for a get-away-from-it-all experience, a fishing holiday is hard to beat – for the avid angler, nothing else comes even close.
You might also like...