Fishing for Conger Eels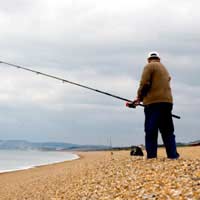 Centuries ago, sailors told stories of mythical beasts that dwelled in the oceans. They put no names to these beasts. Modern day sea anglers tell their tales of monsters lurking in the sunless fathoms of our coastal waters. They have names for these monsters. They call them conger eel.
The conger eel can grow to spectacular proportions. Specimens of more than 30kg have been landed on shore using rod and line. From boats fishing over wrecks, conger eel heavier than 40kg. have been hauled up.
Despite its enormous size and aggressive appearance, the conger eel is a shy creature and hastily retreats to its lair when threatened.
The fish is coloured grey along the back and its belly is silver-yellow. It has teeth and powerful jaws for catching and holding prey. The natural diet of conger eel includes fish, lobster and squid.
Places to Fish
The conger eel is found all around the coast of Britain. It favours wrecks, reefs and rough, rocky habitats. During the hours of darkness they tend to swim in shallower waters closer to the shore.
Boat anglers catch most of the larger specimens. Breakwaters, harbour walls, jetties, piers and rocky estuaries will also produce good catches.
Thunder and storms are said to stimulate the feeding habits of freshwater eels and sea anglers believe these kind of weather conditions also improve the chances of catching conger.
Equipment
Conger eel are heavy, powerful fish. Choose a well built boat rod of about two and a half metres in length. A sturdy multiplier reel is essential to hold plenty of heavy duty fishing line. Large weights are needed to keep the bait deep in the water. Take care when handling long sea hooks because some are manufactured with sharp barbs on the shanks! Tackle shop owners will offer helpful advice when you are selecting equipment.
Bait
A general rule followed by anglers is the bigger the fish you're after, then, the bigger the bait you need. This rule certainly applies to conger eel fishing.
One of the most successful bait for conger is freshly caught mackerel. Mackerel is an oily fish and when cut up and placed on the hook will emit a pungent odour that will attract predators.
Another way to attract conger with mackerel bait is to make a "flapper". This is an entire mackerel with the backbone and guts removed. The side fillets of the mackerel flap around in the swell of the tide or with the jerk of the rod. This movement resembles an injured or vulnerable fish and will prove irresistible to a hungry predator.
Being part of the conger's natural diet, squid is a popular bait to use in deep water.
Fishing Tips
When you get a bite on the hook be patient. Give the conger time to take the bait into its mouth. Pull the rod up sharply and strike. The fish may descend into a deep dive and it is pointless to try and stop it. Let line out from the reel and wait. Start reeling in when the dive has stopped but watch out for a repeat performance.
Get ready for a long battle when you hook a conger and start preparing your personal legend of how you landed a monster from the deep!
You might also like...
How much of a mono leader when using braid Fishing for conger will I need and breaking strain
Graham
- 16-Aug-14 @ 7:14 PM
On a boat trip for conger, is braid the best way To go, and much of a mono leader will i require
fester
- 9-Aug-14 @ 1:27 PM
Hi dose any one know of any good places in northern Ireland for conger eel
fishingmad
- 4-Jun-14 @ 5:22 PM