Float Fishing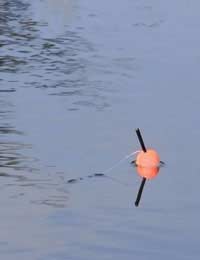 For the majority of anglers float fishing is the most popular method.
Watching a float can be relaxing and at times, almost hypnotic. However, watching a float bob and then suddenly vanish, pulled down by an unseen fish, is always exciting.
Float fishing in rivers and streams allows the bait to be carried along and therefore reaches more fishing areas. Also, bait travelling with other particles in the water has a natural presentation.
Every species of freshwater fish can be caught by float fishing. It is a sport enjoyed by the angler content to remain in one spot and by the angler who prefers to roam the banks.
Equipment
Choose a general float rod, which will be fairly light and measure about 4 metres. These kinds of rods are flexible, which enables smooth casting and have a long butt that can fit under the angler's arm for comfort.
A fixed-spool reel is a sensible choice for the novice angler because they are easy to use. Fit the reel with line of 4lbs breaking strain.
Dedicated float anglers use centrepin reels. Line flows freely from a centrepin reel and this action ensures that the float travels smoothly with the flow of the water.
The size of hook varies with the size of fish you're after and with the size of bait you're using. If maggots are bait for catching dace or roach then small hooks of size 14 or 16 are suitable. Larger hooks of size 10 or 12 are better when lobworm or luncheon meat is bait.
Floats
The float is a bite indicator. It lets the angler know when a fish is interested in the bait. The float may bob or twitch or knock or fall over and these are all signs that fish are about. If you can't see the float giving these signs then the float is useless.
Choose a fairly large float and make sure it stands out at distance or against a dull background. An Avon float is a good choice to start with and as experience grows so will your collection of floats.
Split shot is needed to make the float stand up in the water. It's useful to buy a split shot dispenser as this will contain different sizes.
Trotting
In rivers and streams trotting is a common method of float fishing. Trotting is allowing the current to carry the float and bait downstream. When trotting with maggot throw a handful in with every other cast. This "loose feed" will encourage the fish to feed and will also help to disguise your baited hook.
Position the float at a distance from the hook so that, when you are trotting, the bait will just be touching the riverbed. The float will need to be slid up or down the line to eventually find the correct depth.
Tips
Dace, trout and barbel wait in fast flowing currents snapping at passing food and this makes it a good place to cast in the float.
Trying in dark water beneath overhanging branches and vegetation will often produce good chub.
A useful addition to your tackle when float fishing is the maggot bag or bait pouch. These can be suspended from shoulders or tied around the waist and provide easy access to bait.
You might also like...