Dace Fishing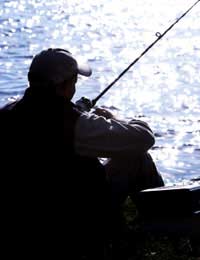 In rivers and streams; fast flowing, bubble-filled water live dace. Spotted in sunlit shallows, dace resemble blades of light quickly changing direction as they swim which is why they are also known as darts.
Dace are small silver fish that shoal in large numbers often with chub. Chub and dace are very similar to look at but a quick check of the anal fin will identify them. The chub has a convex shaped anal fin while on the dace the fin is concave.
The majority of dace caught weigh less than eight ounces and anything heavier is considered to be a good fish.
Equipment
Tackle for dace fishing need not be expensive or even complicated. A general purpose rod of about three metres is suitable. Use a fixed-spool reel fitted with line of about 3lbs. breaking strain. Choose small floats, split shot and hooks of size 14 or 16. Pick barbless hooks because they pierce the bait without significant injury and they also make unhooking the fish a lot easier.
If you have any problems or queries when choosing your tackle ask the people who work in the shop. They are usually anglers and are pleased to advise beginners. They would also like you as a future customer.
Bait
The natural diet of dace is insects, worms and flies. They are not fussy eaters and can often be seen on the surface of the water snatching at anything the current brings down.
Worms
Lugworms dug from the garden or found under stones or slabs are a good bait for dace. Dace are not large fish so use small worms or pieces of a big lobworm. Check in compost heaps for redworms. They are frenetic wrigglers and being smaller than lobworms they are popular bait.
Maggots
Most dace anglers favour maggots to catch fish. Ask for mixed maggots at the tackle shop. These are maggots that have been dyed different colours such as red, yellow, orange or green. Sometimes dace have a preference for a particular colour so it's worthwhile experimenting.
Gently squeeze the head of the maggot and a small opaque blister swells at the fat end. Hook the maggot through this blister to leave the rest of the body in tact.
If maggots are kept for three or four days in warm conditions they change into casters. This is the term used by anglers to describe the chrysalis stage of the maggot. Casters are extremely effective for tempting dace.
At the Water
The best areas on a river to find dace are rapids or fast, bubbling, shallow runs. They will also be found in deeper water where tell tale signs of dimples on the surface will give them away.
Tackle up away from the place you are going to fish. Fish are wild creatures and movement and vibrations next to the water will alarm them and scare them away. Approach the water quietly with soft footsteps. If using maggots, throw a few in with every cast. This will encourage the fish to feed and help conceal your bait on the hook.
Dace are small fish but despite their size have a well deserved reputation for being good fighters and fun to catch.
You might also like...