Breeding Your Own Bait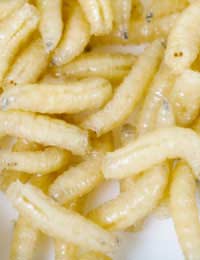 Although most anglers are perfectly happy with the ready availability of good quality maggots and worms from tackle shops and online, sooner or later the ongoing quest for the freshest, liveliest bait drives many to at least play with the notion of breeding their own.
While on the face of it, the prospect seems enough to send all but the most stout-hearted and excessively tolerant of our parents or partners into a major fit of disgust, in reality, breeding your own live bait doesn't have to be anything like as repulsive a hobby as you might think. Having said that, of course, even small-scale maggot farming is a fairly unsavoury business – so you'll certainly need to pick where you do it carefully!
Grow Your Own Gozzers
The home-bred maggot enjoys an almost mythical status amongst some followers of fishing folklore, being imbued with almost magical properties and guaranteeing success on any fishing trip. While the truth about "gozzers" as these maggots are sometimes called, is somewhat more mundane, they do generally seem to be a bit bigger than those commercially available and softer skinned, which seems to go down pretty well with the fish!
If the idea appeals, read on – but be warned; gozzer production is not for the squeamish and even if you personally have the stomach of a concrete rhino, you'd be well advised to keep the details of the yuckier parts of the process from the more sensitive members of your household.
First Attract Your Flies
In the warmer months of the year, take some offal or meat – chicken scraps or pig's heart are popular choices – and make a couple of cuts across it, to let the smell begin to advertise its presence. Place it on a layer of clean bran or oats in the bottom of a biscuit tin or food container and then fit the lid, having first bored a small hole in it to allow flies – usually green-bottles – to find their way in; then put the whole thing in a dark corner and leave it alone.
You should see a "blow" – the arrival of a cluster of small white eggs – within a day or two; leave things alone for another day and then cover the meat with a layer of newspaper or clean bran – in about a week, you'll be able to sieve out large white maggots, just perfect for the bait box.
Worm Farming
If maggot rearing seems a bit of a non-starter, you can still breed your own worms – and best of all, improve your environmental credentials into the bargain!
Dendrobaena worms have become as well established for worm composting as they have for fishing bait, which is great news, since it gives you the chance to breed a range of sizes for all your angling needs, while reducing your kitchen waste and paper.
There's a range of purpose built composting units for sale from a number of sources including many garden centres, online suppliers and even possibly through your local council, all of which have been designed to encourage the worms to multiply. The instructions vary a little from composter to composter, but in general all you need to do is set up the bin with a starter bedding mixture – typically compost or a soil/compost mix – and then introduce the worms. After a short period for them to become acclimatised to their new surroundings, you can begin adding kitchen vegetable waste, paper and some kinds of cardboard, which the worms eat to make good compost for your garden – and drive their own mini population explosion. Allow their numbers to build up for a few months and from then on, you'll have a never-ending supply of fresh and very wriggly worms ready for whenever you want to go fishing.
If you do decide to become a worm-farmer, there are a couple of things to be aware of, to keep things running smoothly. Firstly, don't ever leave the lid off the composter when it's dark and secondly don't allow the bedding to become saturated with water; do either and your worms will depart en masse – it's just what they do!
Breeding maggots or worms isn't for everyone, but if you've half a mind to give it a go, it can certainly be fun to try – and few things beat the satisfaction of landing some beautiful fish caught with the aid of home-grown bait.
You might also like...