Knowing When to Fish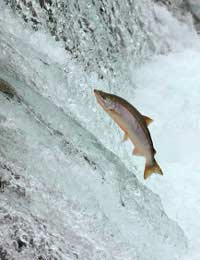 Catching fish obviously calls for you to be in the right place, but more importantly, you need to be there at the right time; even in well stocked waters, try your luck when the fish aren't biting and you're going to be in for a quiet time.
One of the hobby's great attractions for many anglers is the way fishing puts you back in touch with nature – and unsurprisingly the only way to win the age-old battle between angler and fish is to understand the rhythm of the seasons, the cycles of the tides and the vagaries of the weather. Whatever you're trying to catch, there's always a "best" time to fish, but fortunately, you don't always need a degree in meteorology to work out when!
Everything in its Season
For many fish, the best fishing times are seasonal. Bream, for example, are most readily caught in the early summer and then again in the late summer to early autumn, while tench are at their best through the summer and into October. Carp are another species that favour warm water times, taking bait most eagerly through the months of summer and early autumn, while after an initial early spring peak, pike don't really develop their most voracious appetite until September and can be fished for with great success from then until the turn of the year.
The same idea holds true for sea fishing too, although the "season" often varies depending on where you fish and the general climatic conditions of the year. Mackerel, for example, always used to be thought of as an August or September fish, but in recent years many places have reported good mackerel catches ranging from May to November – so a bit of insider knowledge from the locals is probably called for to help decide the best time to fish.
Judging the Tide
For the beach or pier angler, tide plays an important part in the "when" of fishing – apart from the obvious need to have some water close in to shore to be able to fish at all!
One of the best things you can do as a visitor is purchase a set of tide tables for the area – or get accurate local information online and then spend a day or two looking round the shore, if you don't already know it. It will be time well spent because knowing how the incoming water fills any gulleys or deep pools in the rocks can give you useful information about when the best time is likely to be to try fishing in that particular area – and keep your eyes open too for the signs of emerging crabs, marine worms and the like. When food's on offer, there's likely to be fish around, so if you can get an idea at what stage of the incoming tide potential prey emerge it can be another pointer as to the best time to go fishing. Admittedly on many shores it's not easy to see them directly, but you can often get a good indication from watching gulls and other sea-birds. If gulls often appear at a given spot once the water's risen to a particular depth, then you're probably safe to assume there's something edible not far away – and what seabirds eat, big fish eat too!
Daylight and Temperature
Away from the sea, the behaviour of freshwater fish tends to be dominated by daylight, temperature and weather – all of which can have a big influence on the best time to try your luck.
The general rules are well-known; as the morning sun starts to warm up the shallow reaches of the water, fish will begin to take the bait and fishing the shallows is likely to remain productive until the late morning as the temperature rises. This warming effect can often account for good catches even in the cooler days of spring. Later, when the heat of the day really begins to develop, fish tend to move into cooler, deeper water – and if you're going to be successful at this time, your style of fishing needs to change too, now calling for lures and bait to be presented deeper than before.
However, individual species still have their own way of doing things. Studies of perch, for example, have shown that in summer water temperatures of around 21 degrees C, they start to feed shortly after sunrise, peaking at about 11am, with no feeding at all between 7pm and 3am; eels and the burbot – which is now thought to be extinct in British waters – by contrast, begin looking for food as night falls, and continue until first light. Clearly, knowing when to fish often depends on what you're trying to catch.
Like every other aspect of the sport, the more knowledgeable and experienced you get, the more likely you are to be able to predict that elusive "magic hour" when the fish are biting and all is well with the world – but it's never guaranteed. In the end, it usually comes down to understanding your quarry, reading the water and the weather conditions properly – and a healthy dose of luck!
You might also like...