Perch Fishing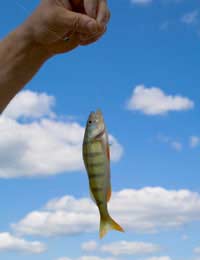 For many anglers the perch is regarded with pleasant nostalgia because it is often the first fish that a novice angler will catch. Perch are found in rivers, gravel pits, ponds, lakes, lochs and canals. They swim in large shoals, they are voracious eaters and the capture of even a small perch will brighten up an angler's day.
Identification
The perch is unmistakable in appearance. It wears a "rugby shirt" of bold stripes. The pelvic and anal fins on the underside of the body are vivid orangey-red....they are flames of colours. On the back of the fish is a spiky dorsal fin. The spikes are not venomous but they can prick the skin if the perch is not handled carefully. There are also flattened spikes on each gill cover and there are even small spikes on the scales so that when you pick up a perch it feels decidedly rough unlike the slippery feel of other fish.
The perch has large eyes that give a clue to the predatory nature of the fish and also indicate that it is adapted to feeding in low light or murky conditions. Most perch caught will only weigh a few grams but often swimming among the small fry will be larger fish of .5kg. Any fish weighing just over 1kg. is considered a specimen and anything heavier is....well....every perch angler's dream!
Tackle
A general-purpose float fishing rod or a shorter spinning rod is suitable for the first time perch angler. Choose a fixed-spool reel because they are easy to use and onto the reel fit line of about 4lbs. breaking strain. Okay, the relatively heavy line is not necessarily to land a large perch but rather to deal with under water obstacles around which bigger perch tend to hunt. When using lobworm for bait tie on a hook of size 6, 8 or 10 and if a bunch of redworms from the compost heap are being used then put on a smaller hook of size 12, 14 or 16.
Methods and Bait
The traditional method of catching perch is to float fish using a large lobworm. Due to the hunting instinct and greedy appetite of perch, this method of fishing is still very popular. Maggots, casters, cubes of cheese, bread, sweetcorn and chunks of processed meat will all work well when float fished. Cheese and meat are heavy baits so select a slightly larger float.
Legering with the same kind of bait will also prove successful. Perch are predatory and also cannibalistic so legering with a dead minnow or perch fry will account for catches of larger specimens.
Spinning for perch is very effective in large still waters such as ponds, gravel pits or lakes. Try a small Mepps spinner or a twinkling fly spoon. When reeling in the lure it is a good idea to vary the speed at which the handle of the reel is turned. A lure travelling through the water at different speeds resembles the action of a fish in distress that in turn will tempt the hunting instincts of a hungry perch.
Tips
Large perch tend to move to deeper waters during winter so try fishing in deep pools and slow runs under river banks and beneath overhanging trees. When using lobworm it's important to hook the bait correctly. If necessary, hook the worm twice to make sure it stays on and doesn't wriggle free. Hooking more than once is particularly relevant when using barbless hooks. Be patient when striking because a pull on the float or a twitch on the leger rod may just be caused by perch tugging at one end of the worm. In lakes and ponds present the bait as close as possible to lily pads and reed margins. These are just the kind of places where perch, with their stipy camouflage, will be hiding and waiting!
You might also like...
I like to jig half a lobworm or a cooked and peeled prawn horizontally down the canal margin on nothing more than a 1/32 oz size #6 jig head.It is a very simple, but very effective way to catch perch.
Peter
- 22-Jul-14 @ 6:41 PM
Going after perch with a mix of king prawns, black pudding, sweet corn and a little bit of mackerel for ground bait and thers plenty of worms and grubs under stone at reservoir too
greenthumb
- 3-Jul-13 @ 1:20 AM
I am going to my local lake and I've got high hopes for catching a monster.
rickdog14
- 4-Apr-13 @ 1:17 PM
Thanks for the info. Moved here to Florida from California and discovered fishing! I have a canal in my backyard and catch hundreds of perch and brym now. Also have a large friend, a crane bird, that is hurt and barely get his own fish so I throw some out to him.
chip
- 18-Aug-12 @ 12:29 PM