Is Fishing From a Road Bridge Over a River Legal?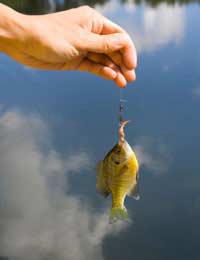 Q.
When I was young, I was always led to believe that no permission was needed to fish from a road bridge over a river, as long as I held a rod licence. Is this true, and if so, does it still apply?
(G.N, 6 July 2009)

A.
This is a really interesting question – and the short answer is "it depends!"
British law is a wonderful institution, but having developed over a couple of millennia from a mixed range of Celtic, Roman, Saxon, Norman and Viking influences (amongst others) it's not always exactly straightforward – and the issue of fishing rights is a perfect example.
Fishing Rights
The situation for tidal waters, for example, differs from inland rivers and waterways. Ever since 1215, when the Barons forced Magna Carta on a reluctant King John at Runnymede, the people of Britain have had the legal rights to fish below the mean high water mark, making tidal waters open to the general public, provided they can gain access without trespassing on private land.
On that basis, it's probably OK to fish off a road bridge – though you'd be well advised to check with your local water bailiff – now more properly called a "fisheries enforcement officer" – just to be absolutely sure. There may still be some obscure local byelaw waiting to trip you up!
Away from the tidal reaches of a river, the answer is almost certainly different – the important thing to remember being that just because you have legal access to the water, you don't automatically have the rights to fish in it. The upshot of this is that even though you might quite legally be on the bridge, the fish aren't yours to catch – since they would belong to whoever owns the rights over that stretch of water and unfortunately, it's not always straightforward knowing who that might be.
Once upon a time, the fishing rights belonged to the landowner; if you owned the land bordering the river, you owned the fishing rights – and if two different landowners owned opposite banks, the fishing rights of each extended half way across. However, with fishing being such a popular pastime, it didn't take long for the value of fishing rights to become obvious and as a result, the rights to fish many stretches of river bank now belong to clubs or individuals and not to the owner of the land itself.
Rod Licence
Even the need for a rod licence gets the "it depends" treatment.
You don't need one to go sea angling, for example, but anyone over the age of 12 intent on fishing for coarse fish, eels, salmon or trout will need a rod licence from the EA – unless of course you live in Scotland, where they don't exist! Up north you will, however, need a permit for most river catchments – which of course means that permission is almost always needed whether you're fishing off a Scottish road bridge, or from the bank.
Fishing law, like other aspects of our legal system, can be a complicated thing and please bear in mind, I'm not a lawyer. There are many very good solicitors who specialise in sporting and fishing rights and who will be able to give you proper advice based on any particular circumstances, if you really need to have an answer that would, quite literally, stand up in court!
Thanks again for raising this topic; I hope you enjoy your fishing, wherever you choose to do it.
You might also like...
Is it legal to fish next to a bridge without a permit even though the river is permitted
Paolo
- 10-Jun-16 @ 9:39 PM