Fishing for Chub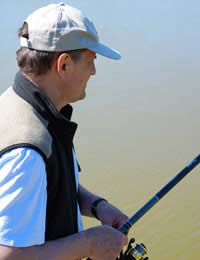 The chub has a large head a huge mouth and distinctive white-grey lips. It is covered with large scales that have a slight black edging. In some parts of the country the chub is nicknamed "loggerhead". Small chub and dace look very similar but examination of the anal fin can identify them. A dace has a concave shaped fin. On chub the anal fin is convex.
It is common to catch fish of 2kg. and some waters have specimens of over 3kg.
Places to Fish
Chub are found in nearly all rivers. Their habitats range from sluggish deep water to fast flowing shallows. In shady spots beneath overhanging branches chub wait for insects to plop onto the surface of the water. Chub will shoal in weed feel pools often with dace and roach. When hooked, the fish will dash to underwater obstacles, such as submerged tree roots and cause the line to become snagged.
Chub prefer to feed in clear water and not when the river is in flood or muddy. Still waters, especially gravel pits, are gaining reputations for having large specimens of chub.
Equipment
Use a general-purpose rod no longer than three and a half metres. Choose a fixed-spool reel and fit with line of breaking strain 3lbs. Floats and split shot are needed and select hooks of size 16. Check the hooks do not have barbs. Without barbs it is easier to unhook a fish.
For the novice angler choosing equipment for the first time can be confusing. Talk to the people in the tackle shop because they are usually anglers. They can give help and guidance and may also pass on useful tips for catching chub at local venues.
Bait
The natural diet of chub includes insects, crustaceans, midge, flies, small fish and even frogs! They are not fussy eaters but will try most bait either through attraction or curiosity. Unlike some species, chub are not put off feeding by changes in temperature. They will take bait on hot summer afternoons and freezing winter mornings.
Worms
For many generations worms have been traditional bait for fish. Lobworms are dug from soil or collected from damp corners and under stones. After rainy spells they can be picked from lawns. Keep the lobworms fresh by covering with damp soil or moss.
Redworms live in compost heaps and are smaller than lobworms. They are frenetic wrigglers. Try two or three together on the hook.
Maggots
Bought from the tackle shop, maggots are relatively cheap and easy to use. Ask for a mixture and you will get maggots that have been dyed different colours.
Maggots left in warm conditions will eventually turn into "casters". This is the term used by anglers to describe the chrysalis stage of development. Casters are excellent bait for chub. If you use barbless hooks the hard casing of the caster will not be shattered but remain in perfect condition.
Chub will snap up slugs collected early mornings in summer. Cubes of cheese and bread crust will also tempt fish and, for many anglers, luncheon meat is top bait for catching specimen chub.
At the Water
Tackle up away from your chosen fishing spot. Movement and vibrations next to the water will frighten the chub away. Approach the water quietly and slowly. Don't become a large profile against the skyline but instead merge into the environment. Chub will swim close to the bank if there is no threat.
Watch for tell tale signs of feeding fish like dimples on the surface and swirls in the water. Cast your line gently and enjoy.
You might also like...
This is a really good website and from this ive been catching chub on slugs maggots casters and worms rated 10 out of 10
Fisherman wardie
- 14-Jan-17 @ 12:51 PM