Fishing Computer Games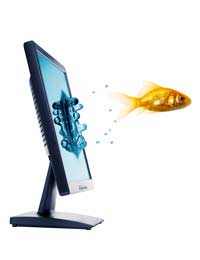 Many of us like to go fishing but there are occasions when the weather is just too foul to sit on the edge of a river or reservoir waiting for that satisfying tug on the rod that says you have successfully snared a fish. If you are one of the many thousands of fishing enthusiasts around the United Kingdom who like to fish but can't always get to go fishing then there may be an alternative: why not combine the joys of fishing with the comfort of staying indoors and fishing on your PC or video games console?
What is a Fishing Simulator?
A fishing simulator is just like a flight simulator the notable exception being that you are using a rod and a net as opposed to a jumbo jet and a runway. Simulator games have become very popular in the last few years not least because of the advances in technology and also the reduction in the price of said technology. Hundreds of thousands of homes up and down the United Kingdom have a personal computer or some version of a video games console on which you can happily while away the hours without leaving the comfort of your armchair.
A simulator is a three dimensional representation of a real world environment which is normally built using scaled drawings and photographs of actual places around the world. The joy of these simulators is that you can go fishing for almost any species of fish you would care to mention and do so in the waters of many exotic locations – all for the price of a single train ticket.
What are the Benefits of Fishing Games?
Believe it or not many professionals use this type of simulator style games to hone their skills just like a golfer or cricketer would do. As we have already mentioned the main advantage is that you don't have to lug tackle, rods, and nets and assorted other fishing equipment around with you and likewise you don't have to leave the house. Of course there is nothing that can make up for the great outdoors or the sights and smells associated with them but for the beginner fishing simulators – or Sims as they are known – are a good place to start.
What Kind of Fishing Games are There?
The list really is endless and you should have a look at some online shopping sites for a more detailed list and descriptions. You can choose from any of the following though:
Bass Fishing
Deep See Fishing
Shark Fishing
Competition Fishing
Fly Fishing
Carp Fishing
The list really is endless. You should be aware though when purchasing such a game from the Internet that not all games work in the United Kingdom. Games designed for sale in the United States of America, Japan and Asia are encoded in a particular way and will not work on European consoles although for the most part PC versions will run on almost any computer providing they have the right specification in terms of memory and graphics. Check the specifications before purchase to make sure your game will run on your console or computer.
Are These Games Expensive to Buy?
This depends on where you buy them from. Many of the new release games especially those for the newer consoles can cost anything from £30 to £50 so it is sometimes worth waiting until the prices start to drop: you can find bargain priced games on the Internet if you know where to look or by simply using one of the many search engines available.
As we have already mentioned though – and it is worth reiterating – it is important to check that the game you are purchasing is compatible with your console or computer as refunds, especially from other countries are sometimes difficult to obtain.
Playing Online
You will also find a host of fishing games hosted online by a variety of websites and again running a search through one of the search engines should provide you with a wide ranging selection. Some require a subscription to unlock the full game so you should check before downloading any programs to your computer.
You might also like...