Fishing from Harbours and Estuaries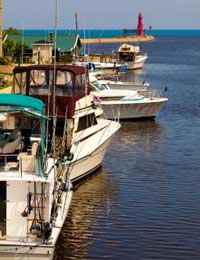 Estuaries and harbours bring relatively deep water within easy reach of the shore and that can offer a bonanza of fishing for a well-prepared angler. There's often plenty of sport to be had just by dropping your line into these spots, but if you really want to come away with a good catch, a bit of careful thought before-hand – and the usual pre-session scout around of the local environment at low tide – should pay dividends.
What to Look For
Even when the tide's out, of course, harbours and river mouths don't tend to be entirely dry, but it is still an ideal opportunity to familiarise yourself with the general lay of the landscape. If you bear in mind that the main lure of these places for the big fish you're after is the smaller fish and other tasty morsels that they shelter, this sort of pre-fishing reconnoitre simply becomes an exercise in spotting where good feeding is likely to be on offer.
In estuaries, look out for outfall pipes and weed-covered rocks, where crabs and shellfish lurk, sand and mud flats that may be home to lugworms and so on. Remember too that large predatory fish may gather behind sand or shingle bars as the tide rises – so if you spot where they're going to be, you can extend your fishing by quite some time, while you wait for the water to be high enough for them to feel safe to swim up the estuary.
If you're planning to be fishing a harbour, try to spot patches of dense weeds, or cracks and gaps in the fabric of the harbour wall – places where small invertebrates may have made a home. You can be sure that the local fish know a good source of food when they see one, so keep your eyes peeled and note where any you do find are located in relation to some fixed point that will be visible later, so you'll be able to drop your bait into just the right place.
Fish to Expect
Although like all forms of sea angling, you can never be entirely sure who's lurking a few metres offshore, for both estuaries and harbours, the usual suspects include the likes of bass, conger eels, flounders, mackerel and mullet. Depending on local conditions and the time of year, you can also encounter freshwater eels, salmon and sea-trout in and around the mouths of estuaries, while harbours often hold garfish, small pollack, pouting and whiting. There have even been thornback rays, bull huss and tope caught in some of the country's estuaries and harbour mouths; it's not exactly commonplace, but you never know. With a collection like that to aim for, you can largely choose your own favourite fishing method – float, ledgering, spinning or even fly if you like – and you should be assured of some interest from down below!
Ground-baiting can often help, either scattered loose, or if the current is too swift, suspended in a mesh bag to attract fish, but do be aware if you're fishing a river mouth, that the incoming hunters will themselves be moving with the tide. If you suddenly find the bites stop coming, try moving upstream with them, but try to keep out of sight and tread carefully – this is one time when sea-fish seem to be particularly flighty. Obviously, you also need to be prepared to move back towards the sea later, assuming you're still busily fishing as the tide ebbs.
Fishing from harbours and estuaries doesn't call for the huge cast that typifies much of shore angling, but it does make its own demands, principally in terms of how well the angler can read the underwater environment and spot the likely places where food will gather and big fish will come to find it. The trick to this kind of fishing lies in observation, awareness and then – as always – putting your hook in just the right place!
You might also like...