Fly Fishing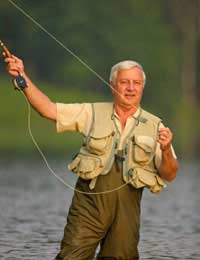 Mention the word "angler" and people form a picture in their mind; for some it will be a hunched figure crouched on a rain soaked bank, gloomily staring at a float. Other people may conjure up a more romantic image; a golden river in twilight, its surface dimpled with haloes of rings from rising fish. Deep in the water there's a solitary figure gracefully looping line through the air. This is the picture of the angler who is fly fishing, at peace with himself and with the world.
Fly fishing is a method used to catch game fish such as salmon and trout. Coarse fish are also taken when fly fishing. It's true to say that any species of fish that surface feeds can be caught by fly fishing.
There are two general categories of fly fishing: wet fly fishing and dry fly fishing.
Wet Fly
Wet fly anglers use hooks that have been wrapped with bright coloured thread. Pieces of feather are also incorporated onto the hook. The designs of different flies are called patterns. These patterns resemble insects and creatures that fall or land on the surface of the water. They are called wet fly because they are designed to slowly sink in the water.
Wet fly can be bought from tackle shops. More experienced fly anglers can identify the flies on the water and then tie their own flies.
The patterns are beautiful and have intriguing names. For rivers and streams, recommended flies are March Brown, Partridge and Orange, Snipe and Purple and Black Spider.
On lakes and reservoirs try Bibio, Oakham Orange, Peach Palmer and Zulu.
Dry Fly
Dry fly are also designed to resemble insects and creatures that form the natural diet of surface feeding fish.
Bright threads and feathers are used to make dry flies and they are treated with a water repellent to prevent them from sinking.
On rivers and streams try Adams and Pheasant Tail. A traditional pattern for catching grayling is Red Tag. For stillwaters the flies to try are Bob's Bits, Claret Hopper and Mickey Finn.
Equipment
A specialised rod is needed for fly fishing. These rods are flexible and light. For fishing on smaller rivers and stillwaters, the fly rod is normally single handed. When fishing powerful rivers for salmon, a double handed rod is used.
The best choice for the novice fly angler is a single handed rod of about 2 metres in length. Check there is a decent securing mechanism on the butt of the rod for holding a reel in place.
A specialised reel is needed for fly fishing. These fly reels work in a very simple fashion. Line is pulled out by hand and reeled in by the handle.
Fly line has to be put on the reel. The line looks different to conventional fishing line. It is more bulky and manufactured to float or gently sink to just beneath the surface. An additional piece of line needs to be attached to the fly line. This extra line is called a leader. The flies are tied to the leader.
Choosing equipment for the first time can be confusing, talk to the people in the tackle shop as they are usually anglers and will offer helpful advice. They may also suggest patterns to try on local rivers and lakes.
Casting the Line
The basic method for the beginner is the overhead cast. Pull about 3 metres of line from the reel with your free hand. Let the line loop next to you. Lift the rod up sharply to a vertical position and this will collect the loops. In a whipping action, slant the rod quickly towards the water and line will shoot forwards.
Casting a fly line needs practise. At first it can be frustrating but gradually it starts to work.
Extra Equipment
A fly box is important to hold your collection of flies.
Fly fishing frequently entails wandering to different spots so a small bag to carry tackle is a good idea.
Landing nets are essential for lifting fish safely out of the water. Choose a collapsible net that can be clipped onto a belt or strapped across the shoulders.
You might also like...