Fishing from Piers and Jetties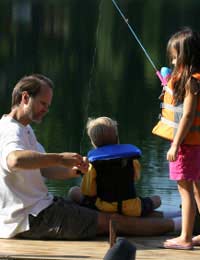 Many anglers got their first taste of sea fishing from a pier or jetty, and it's a great place to start, offering what has to be the easiest method ever devised for getting a baited hook far enough out into the water to catch something satisfyingly worthwhile. Removing the need for the long range and accurate casting usually demanded for shore fishing allows any new comer to the sport to enjoy the experience right from the off and gives keen youngsters the chance to hook quite respectable fish on pocket-money tackle. It's not difficult to see why pier fishing has such a special place in most sea anglers hearts.
While good fishing can often be had fairly readily from piers and jetties, some really successful sessions – and sizeable catches – can be had if you're prepared to go that extra mile when it comes to preparation and planning.
Piers Attract Fish
It's important to understand why piers and jetties attract fish. They were not primarily built as fishing platforms and few extend over what you would consider prime natural fish holding sites – but consider the underwater environment that they have themselves created, and it becomes a little clearer. For starters, their weed covered supports provide homes for a whole range of shellfish, worms and crabs, not to mention offering shelter from heavy currents to shoals of small fish. Put all of that together, and you've instantly created the marine equivalent of a fast-food outlet for larger predatory species – and that's before you factor in the scrap food contribution from pier cafes and restaurants, sight-seers and boat trippers. Your ground-baiting has already been effectively done for you, long before you even arrive!
Reading the Site
As with all sea angling, it's well worth doing a spot of reconnaissance at low tide to get a real understanding of the fishes' world. Look out for hollows, dips and gullies between the rocks, and patches of sand or mud on the seabed and make a note of where they lie in relation to some above-water feature on the pier itself, so you'll be able to locate them again later. These are just the sort of places that will hold food again once the tide's come in, and you can bet that the local fish will have a good look there to see what's on offer. If you know where they'll be looking, you'll be able to make sure your bait is in the right place for them to find, rather than just trusting to luck.
Keep an eye out too for any obstructions that might snag your line once they're underwater; it's much less costly to learn about them this way than by losing tackle – and valuable fishing time – later.
Pier Fishing Tips
The best times to fish from piers and jetties tend to be dawn, dusk and at night, so if you can arrange to be in place about two hours before a high tide that coincides, you should be well set up for a good catch.
As a general rule, placing your bait at about mid-water should produce the best results, but if you find that you just aren't getting the bites, try altering the depth you're fishing in stages of around 18 inches or so, until you manage to find where all the action is taking place. Do be aware, however, that if you let your bait get too near to the bottom, you're almost guaranteed to lose it to the army of marauding crabs that swarm around most jetties and piers, so if you're routinely having yours nicked, adjust your rig accordingly – unless you like feeding crabs!
Piers tend to attract a friendly crowd of anglers, especially at peak times, but while it's great to enjoy the camaraderie, don't lose sight of the purpose of your visit and keep a careful hand on your rod at all times. If you do get a bite, you'll need to strike at once, or the next thing you know, you'll be reeling in a broken line after the one-that-got-away has tangled your gear around the submerged piers supports and made off with your bait.
One of the great joys of fishing from piers and jetties is that, like Forest Gump's box of chocolates, you never know what you're going to get. Depending on the type of shore, the season and whereabouts on the coast you fish, the range of species to be caught is enormous – including the likes of dogfish, skate, mackerel, mullet, bass, sea bream, cod, pollack, dab, flounder, pouting, garfish, whiting and conger eels.
It really is small wonder that so many people get hooked on angling the first time they try fishing from piers and jetties!
You might also like...