Equipment for Sea Fishing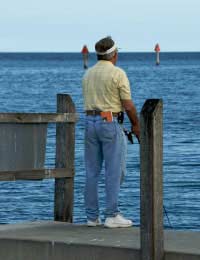 The seas around our coast provide opportunities to fish for many species of every shape and size.
There are two categories in sea fishing: shore fishing and boat fishing. Shore venues include beaches piers, harbours, jetties and estuaries. Boat fishing could be short trips from holiday resorts catching mackerel, charter boats hired to sail along the coast or deep sea wrecking trips hunting for ling and conger eel.
Different habitats often mean different species. Different species can sometimes mean different methods of fishing. Sea angling equipment is basically the same for any situation, although size and strength of tackle might vary.
Rods
A dedicated shore angler will use a specialised beach-casting rod that is able to place bait beyond the breakers. Those with a passion for catching mullet in harbours and estuaries adapt their equipment to make it lighter and more sensitive.
Choose a rod of less than 4 metres and this can be used on beach, pier, harbour and boat. By selecting a general-purpose rod the novice angler has the flexibility to try out a variety of fishing venues.
Reels
The main reels used are the fixed-spool reel and the multiplier. A sensible choice for the beginner is the fixed-spool reel because it is easier to use. Multipliers have a tendency to overrun in inexperienced hands. The result of overrunning is a tangled mess of knots and loops known as "a bird's nest".
Fixed-spool reels have a simple arm system that picks up the line when the handle is turned.
Choose a large reel that can hold plenty of line. Sometimes a hooked fish will make a surging dash for freedom and strip off metres of line in seconds!
Deep water, snags on rocks, reefs and large fish can test a fishing line to the limit. Using a line with breaking strain of 20lbs. will give the angler a fighting chance.
Having scissors or nail clippers is useful to cut heavy duty fishing line and to snip off knot tails on hooks.
Hooks
There are many obstacles in the sea where hooks can become stuck. Often the angler's dream of a monster turns into a stubborn clump of seaweed, so a strong hook is important. Also, a hook needs to be large if a big bait is being used. Buy a selection of sizes, such as 4, 6 and 8, to match different bait and conditions.
Some sea hooks have extra barbs on the shank. Take care because these barbs are sharp and can be a painful nuisance when baiting up.
Take a sharpening stone with you because after a while hooks become blunt.
Legering
The simplest method of sea angling is legering which is generally done from piers and harbours. A weight is tied close to the hook and this keeps the bait on the sea bed. The weights are called legers, bombs and leads. Some anglers have been known to use heavy nuts and bolts and even old sparking plugs for legering!
Float Fishing
This is an effective method of catching fish from jetties and harbours. The float allows the bait to drift and so therefore covers more fishing areas than legering.
Choose a large float so that it can support large baits. Make sure the float is brightly coloured so it can be spotted in tide swells and at distance.
Clothing
An important part of sea angling equipment is what you wear. Warm clothes, hats, gloves and waterproofs are essential in exposed places like piers and jetties. Rubber soled shoes or boots are important when fishing from rocks because they can be slippery with seaweed. Watch out for tides and sudden waves. Sensible sea anglers respect the sea.
You might also like...
@Chris - Shock leaders, are very important as for practical power reasons, but also for safety. Without power your main line will part and you'll get lead flying off everywhere. Use a leader equating to 10lb breaking strain per ounce of lead minimum. 20 feet shock leader is about right equating it to around 10 turns of the reel - just over the length of the rod. You Tube has a few casting videos that might be able to refine your technique if that's an issue.
Rob
- 19-Mar-15 @ 2:37 PM
Hi all, I have a question for a Sea Fishing expert: ... I have recently decided to leave the carp rods alone and get back into sea fishing.I fish the Gower coastline (south wales, GB) which is mixed ground.Mainly Bass, Flatties, Whiting, Dogs, Ray, Skate, Codling.I have two 13ft multiplier rung beach casters (Shakespeare salt MX, Shimano vengeance Surf) using coaster reel seats, which will be paired with the original Daiwa 7HT Tournament and a Daiwa 'slosh' (SL20SH).Now, my casting ability with a multiplier leaves a lot to be desired, the over the head style is fine for my needs as I've tuned both reels in to my style. Im not looking for a pendulum distance casting style anytime soon, as most of my fishing is off breakwaters, cliffs, rock outcrops ... but onto sand mainly. I have my favourite mono on both reels, which is Suffix Tritanium copolymer mono, love the stuff! BUT, I hate using shock leaders, don't trust the knots after relentless casting and if I snag, I loose end tackle as well as 16ft of shock leader in the sea .... not a cheap or environmentally friendly result! SO ..... 1- does a breaking strain of 30lb (0.45 mm dia) mono on the 7HT and SLOSH make much difference with casting? 2- Is it reasonably safe to overhead cast straight through without shock leader, in this breaking strain (30lb)?Using 4-5oz leads (plus end tackle/bait) If ANYONE can give me an honest and frank answer to these questions, I would be very appreciative!! Thanks Chris
Chris
- 17-Mar-15 @ 1:16 PM