Ten Top Tips for Sea Fishing Equipment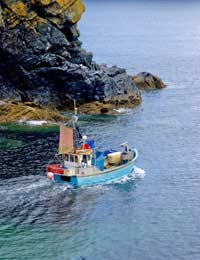 Ask ten anglers for their advice for the best choice of tackle for any particular job – and you'll probably get as many different answers! We've all got our favourite gadgets, gizmos and "lucky" bits of equipment lurking at the bottom of our tackle boxes, and it's a collection that over time comes to both reflect the way we fish and tell the story of all those days spent eagerly watching our rods. Gradually amassing tackle, experimenting with it and remembering the successes – and the failures – is part of the pleasure of fishing.
For the sea angler, however, keeping your kit in good condition and working order in the coastal environment can be a bit of a challenge and few things detract from a day's fun as quickly as discovering that some prized piece of tackle has been ruined or lost. With this in mind, these ten quick tips are not aimed at lecturing you about what piece of kit you should be using, but rather how to go about making sure that all the stuff you've already lovingly collected can keep on performing at its best.
Sand and Salt are the Enemy!
The corrosive nature of sea water is an obvious threat to equipment – but don't underestimate the harm that sand can do in the moving parts of reels or the joints of rods.
1. Keep your reels in a case or suitable bag until you're going to use them and be particularly mindful of how much sand flies about on a sandy beach in windy conditions.
2. Make your rod up away from the sand, in a sheltered spot away from spray if you can find one, to avoid forcing grit or sea water down into the joint socket.
3. Keep used wet hooks, sinkers, traces and so on away from dry equipment; some anglers lightly smear pilchard oil on their unused hooks to stop the salt water rusting them. Crude pilchard oil is often sold as a bait additive in angling shops – but be warned, it stinks! If the idea appeals, but the smell doesn't, a thin coating of cod liver oil seems to work just as well.
Once you've got home from your expedition, if you rinse your tackle with cold tap water, dry it thoroughly and then store it away properly, it should stay in perfect condition for your next foray to the beach.
Seeing What's Going On
Every sea angler knows the truth of that old saying about time and tide waiting for no one – and the upshot of that means that there are plenty of times when that not-to-be-missed, best-ever opportunity to fish coincides with fading light. If you've ever spent anxious moments on a cold, windswept beach, trying to work out where you've dropped that vital torpedo weight – or worse still, your car keys – you'll not be in too much of a hurry to repeat the experience. Take a torch? Sure – but here are a few other things you can also do to make your life a little easier.
4. Luminous tape is a brilliant invention for anglers; add a few strips to your tackle box or rucksack and you shouldn't ever waste any more time wandering about in the gloom searching for it at the end of your session.
5. A few bits around the rod joints will also help you see what's going on when you're fishing after dusk – and you might want to think about buying a fluorescent bite-indicator if you haven't already got one.
6. Although they were seen as a bit of a gimmick at first by some people, head lamps have definitely become mainstream – and with the latest LED versions, you get fantastic battery life and you don't end up looking like a cross between an ophthalmologist and a coal miner! Their best feature is probably their most obvious one – they leave both hands free; when there's a fiddly little job to do, that's a major bonus!
Bits & Bobs
Finally, here are a few suggestions for one or two things that you might want to add to the rest of the bits and bobs already in your tackle box. Admittedly, they don't exactly leap into mind when you say the word "fishing" but like many other ordinary things, they can serve some very useful purposes – and anglers are nothing if not inventive!
7. A roll or two of insulating tape – brilliant for a wide range of instant equipment repairs.
8. Bags, bags and more bags! Obvious really, but plastic bags have a myriad of uses from keeping things dry to bringing home your bulging catch; aim for a good range of sizes.
9. Tent pegs – and guy-ropes; a spare set (or two) is always worth remembering to add a little extra security to umbrellas, shelters and tents, especially if you're fishing in the winter.
10. Clothes pegs – not quite worth their weight in gold, but certainly very useful things to have around when it comes to securely closing bags with cold and tired fingers, or acting as simple clamps, at least when the wind's not too strong.
If collecting tackle is part of the whole fishing experience, then so is losing odd bits along the way. It's in the nature of the game; weed, rocks or the "ones-that-got-away" rob everyone of something, sooner or later, and no amount of care or clever tips will stop that – but you don't have to make it easy for them!
You might also like...